Piano rebuilding is a term that is used with-in the piano trade to cover a wide spectrum of work. The word rebuilt is applied to work as simple as minor repairs to the piano all the way up to a comprehensive replacement of all key sound-producing components. We began using the term remanufactured piano to differentiate the work that we perform on grand pianos from that of run of the mill rebuilding shops. The words Caveat Emptor surely applies when searching for a piano rebuilder.
We are a small family run shop catering to piano owners who are seeking the ultimate in performance of their pianos.
Unlike other stringed instruments, pianos deteriorate over time with an average expected performance life span of fifty years. The structural components can last for centuries, if care is taken to preserve the pianos. The sound producing components deteriorate over a much shorter life span. The piano has approximately 230 strings with each string pulling an average of 180 pounds of tension. A total exceeding forty thousand pounds. This tension leads to deterioration of the soundboard and tuning pinblock. Usage over time wears the playing parts. Humidity fluctuations over the years also take a toll on the piano. During humid months, the wood expands and during dry months, it shrinks. This leads to cracking of the wood, which is most evident in the soundboards of pianos. All of these factors combine to cause the piano to lose the high-performance qualities that its design intended when originally manufactured.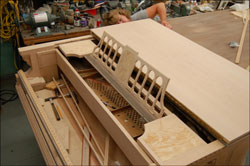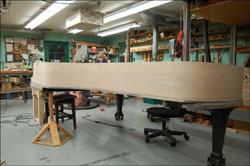 Piano design has not changed significantly since about 1890, from a musical standpoint. The main area of change has been to the exterior cabinet of the piano. Back in 1890 the pianos were very ornate and today they have become more stream lined in appearance.
This allows us to take quality grand pianos from the last 120 years or so and remanufacture them to new condition. The methods of piano remanufacturing used by us were developed by us over the years since our company was formed in 1956. We gleaned knowledge from manufacturers, other piano technicians, available literature, and through our own experience working on various pianos. The result is a sound and performance level comparable to the best pianos available today. We are able to provide this service at a lesser cost than comparable new pianos.
We are a small operation geared to hands-on custom work. We do not hire cheap labor, we do not cut corners and we use only the highest quality parts available in the world today. Piano remanufacturing is a labor-intensive endeavor and therefore, our work is not inexpensive. Each piano is examined prior to determining a repair agenda and repair cost for each particular instrument.
Caring For Your Newly Remanufactured Piano
Tuning: Included in the contract is one free follow up tuning and servicing. This should take place within two to three months after delivery. The piano should be tuned four times in the first year. The new wire will continue to stretch and therefore go out of tune much quicker. Once the piano stabilizes, it should be tuned at least twice per year.
Action: The action will settle some during early usage. This is caused by the initial compression of the new felts. The action will be readjusted at the time of the follow up servicing. The action will need periodic adjustments depending on usage.
Voicing: The new felt hammers were voiced prior to delivery. Additional voicing may be done during the follow up servicing. The voicing will need adjusting according to usage and your preferences.
Exterior case finish: The refinisher does not recommend the use of polishes. Dust may be removed by lightly moving a tack cloth in the direction of the rubbing marks on the piano. Fingerprints may be removed with the use of a slightly dampened cloth and a little mild soap such as dish washing liquid. Please do not place heavy objects on the finish of your piano, especially the music desk. The music desk is not designed to hold a great deal of weight and heavy objects may cause it to sag. Further, rubber backed mats or objects may mar the finish.
Piano interior: Periodically, you should request that your piano tuner clean the inside of your piano for you.
Five-Year Warranty
For a period of five (5) years from the date of delivery, Snyder's Piano Service, Inc. warrants the pianos we have remanufactured to be free from defects of material and workmanship.
Please note: This Warranty does not include the checking or chipping of lacquer, the surface cracking of veneer, or the discoloration of key tops. If, during the Warranty period, your piano is adjudged by us to be defective in remanufacture, we will repair such defect without charge for parts or labor. Normal maintenance work, such as tuning or regulation, and the results of normal wear, are not covered by this Warranty.
Our five-year Warranty here stated is specifically in lieu of all other Express Warranties, and the Warranty is not assignable. Snyder's Piano Service, Inc. excludes and shall not be responsible for any and all incidental or consequential damages arising because of a defect in a piano remanufactured by us. (Note: Some states do not allow the exclusion or limitation of incidental or consequential damages.)
Our Warranty does not apply to failures caused by the following:
1) Improper maintenance or repair or the lack thereof.
2) Abnormal strain, use, neglect, abuse, modification or exposure to sunlight, or extremes in temperature or humidity.
3) Accidental damage.
If you have any questions, please don't hesitate to inquire.