Willis Snyder began in the piano service and repair business in 1955. He provided tuning and repairs of all makes of pianos as well as player piano restoration work. By the mid sixties he began rebuilding pianos, including soundboard repair, new tuning pinblocks, restringing and action repair. In 1969 he acquired the knowledge to build and install new sounding boards for pianos. In 1969 he and his wife Kathryn, built a new shop where the business continues today to provide the highest quality grand piano rebuilding work available. Willis also taught piano repair at numerous seminars around the country for over thirty-five years.
David graduated from Drexel University in 1975 with a degree in Commerce and Engineering. He joined the business and became a full partner with in five years. In 1980, David began to assist Willis in teaching at seminars. Willis and David developed innovative classes and taught together at many seminars. David continues to teach at seminars today, but on a more limited schedule as the demands of the business have grown.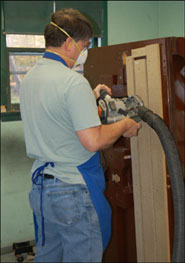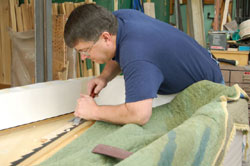 Miriam, David's wife, began working part time in the business twenty years ago while raising their children. She began working full time in 2001. Dave & Miriam's son, Mike Snyder, joined the firm in January 2008, becoming the third generation to work in the Snyder family piano business.
Willis retired in 2004 leaving the business in the hands of David and his wife Miriam. They continue the business adhering to the high standards that Willis first set and to which David later re-enforced and built upon.
Snyder's Piano Service, Inc. provides the highest quality piano rebuilding available today. They are not associated in any way with any manufacturer or piano dealer. Methods used by them were developed over a period of 50 years, gleaning knowledge from manufacturers, other piano technicians, available literature, and through our own experience working on various pianos. The result is a sound and performance level comparable to the best pianos from the golden era of the piano in the first half of the 1900's. They use the best parts and materials available. They do not cut corners to save costs. Their operation is not a high production set-up; they focus on providing high quality, custom piano rebuilding work for clients that also have high standards.